This Covid-19 quarantine has given me some much needed time to read. Sure I could be organizing closets and whatnot, but I can't say I've done much of that. I've read more than anything. And taken naps. Guilt-free naps are the best! Like I've mentioned probably a dozen times, I love series books. The Jack Stratton series by Christopher Greyson is one of my favorites. I actually didn't realize his next book, Jack of Diamonds, had come out. So imagine how happy I was to see it available on Kindle Unlimited AND also having the time to read it!
*As an Amazon Affiliate, I earn from qualifying purchases*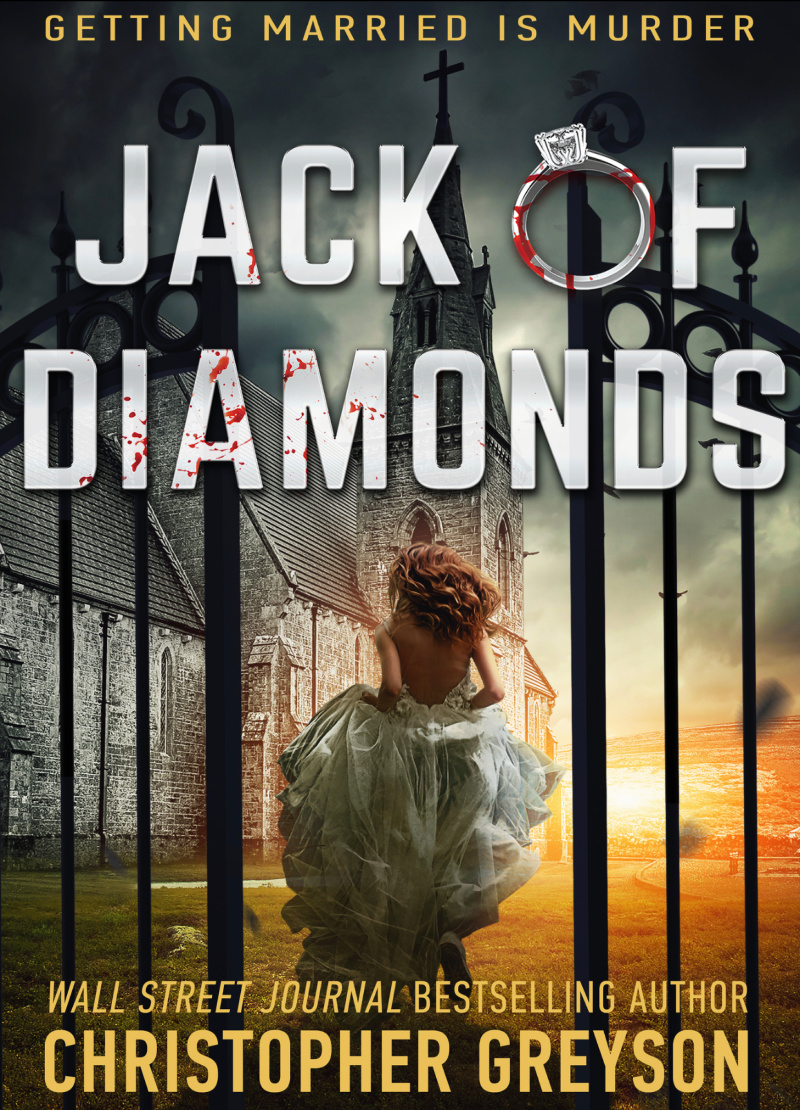 Why Series Books?
Um…why not? No, seriously, why not? For me, reading a series book is much like watching your favorite television series. You get comfortable with the characters. Some of the characters you like and you are rooting for, while others you can't stand and you can't wait to see them taken down. The same holds true for series books. The longest series I've read is the Alex Cross series by James Patterson. Like the Alex Cross series, the Jack Stratton series by Christopher Greyson sucked me in immediately. Continue reading to find out more about the series!
About the Jack Stratton Series
Early on in the series, we found out that as a very young child, Jack grew up in a whorehouse with his prostitute mother. Entering into the foster care system, Jack was lucky enough to have great foster parents and foster siblings. However, after a bomb nearly killed him when he was deployed, Jack comes back with demons he must fight every single day.
Jack of Diamond Synopsis from Amazon
'Til death do us part…

All Jack Stratton wants to do is get married to the woman he loves—and make it through the wedding. It seems like he is finally getting his wish until he responds to a police distress call and discovers his old partner unconscious in an abandoned house. Investigators insist it was just an accident, but Jack fears there may be more to it. Sketches of women cover the walls, and among them is one sketch that makes Jack's blood run cold—a sketch of Alice, pinned up beside an invitation to a very special wedding—his own.

Locking horns with law enforcement, Jack digs deeper. What did his old police partner see in the house? Who's been creating these sketches? More importantly, what do they want with Jack's bride-to-be?

When he identifies two of the women in the sketches, only to discover that they are both missing, Jack finds himself thrown into one of the deadliest cases he's ever worked. Jack comes to a terrifying conclusion—there's a serial killer on the loose… and Alice is his next target.
As their wedding day looms closer, Jack and Alice must work together to solve the murders and put an end to the killer. Will they catch the psychopath in time, or will their loved ones attend a funeral instead of a wedding?

Jack of Diamonds is a riveting thriller that takes murder mysteries to a whole other level. Filled with intrigue and suspense, this book delivers compelling twists and crafty schemes along with some laugh-out-loud wedding antics. As Jack and Alice fight a deadly killer, their long, happy future together seems like it's just inches from slipping away.

This time, "till death do us part" might just be a bit too accurate.
My Thoughts
I really enjoyed this Jack Stratton book. With previous books in this series, I have often figured things out before I got to the end. However, with Jack of Diamonds, I thought I figured it out and I was WAY wrong! The ending was surprising to me in a way that I really enjoyed! I actually could see this book being a movie or an episode of a show like Criminal Minds or something!
The nice thing about every single book in the Jack Stratton series is that they can be found on Kindle Unlimited! If you don't know about Kindle Unlimited, then check out the Kindle Unlimited Membership Plans
. Your first month is completely FREE!
If you are like me and you like to nibble on delicious goodies while you are reading, then you need to try these yummy brownies with white chocolate chips that I made the other day! They are from scratch and so so easy to make!