Since being laid up from knee surgery, I have watched way too much tv and read a lot of books. One series I watched on Peacock, One of Us is Lying, was based off the book with the same name. When I basically got to the end of Netflix, I started browsing Amazon and my Libby app for a book to read. That's when I came across the sequel to One of Us is Lying. One of Us is Next by Karen M McManus picked up where the previous book left off. And it did not disappoint!
*As an Amazon Affiliate, I earn from qualifying purchases*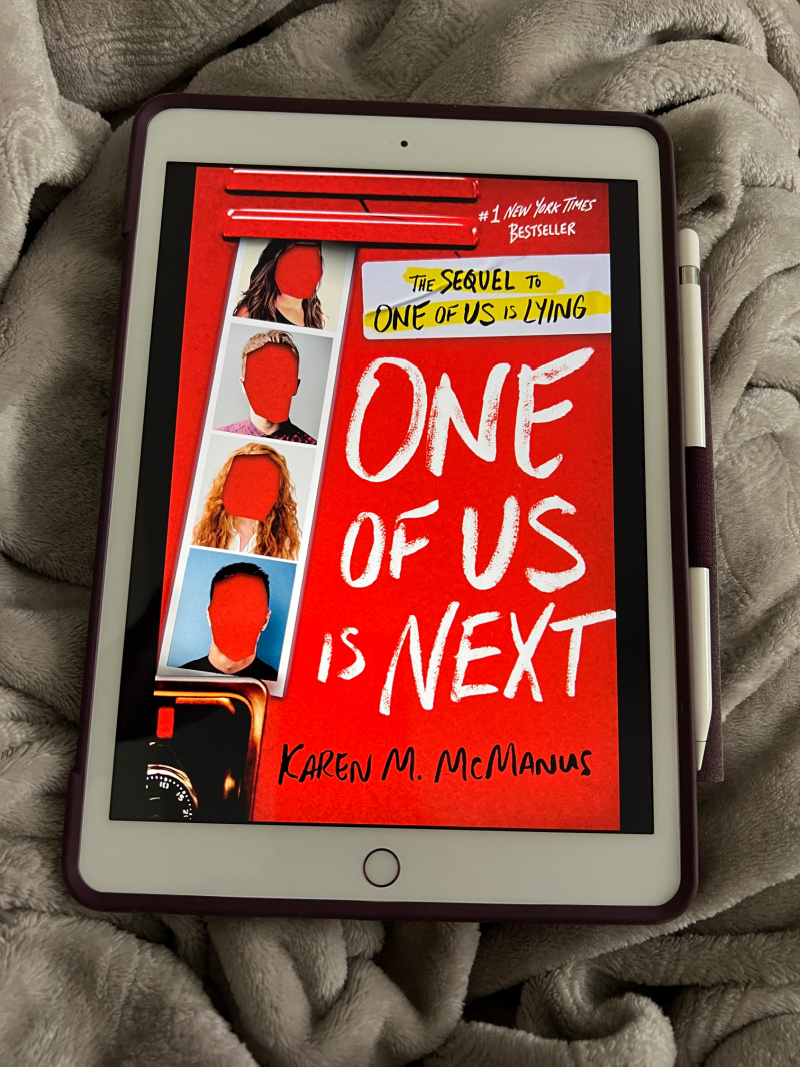 Karen M. McManus 2-Book Box Set: One of Us Is Lying and One of Us Is Next

Karen M. McManus Boxset

About One of Us is Next by Karen M McManus
From Amazon –
Come on, Bayview, you know you've missed this.

A ton of copycat gossip apps have popped up since Simon died, but in the year since the Bayview four were cleared of his shocking death, no one's been able to fill the gossip void quite like he could. The problem is no one has the facts. 

Until now. 

This time it's not an app, though—it's a game. 

Truth or Dare.

Phoebe's the first target. If you choose not to play, it's a truth. And hers is dark. 

Then comes Maeve and she should know better—always choose the dare. 

But by the time Knox is about to be tagged, things have gotten dangerous. The dares have become deadly, and if Maeve learned anything from Bronwyn last year, it's that they can't count on the police for help. Or protection.

Simon's gone, but someone's determined to keep his legacy at Bayview High alive. And the rules have changed.
My thoughts
I am totally partial to a series. With a series, you are able to get invested in the characters and I don't know about you, but I like the familiarity of it all. I initially read the first book in the series awhile ago, but Karen M McManus does a nice job of reminding the reader of what happened in the first book. In no time, I was caught up and completely invested in the new storyline. This book is written by multiple points of view. I really like books like that and I especially like it when the author lets you know at the top of the chapter who's point of view it was. This YA book is definitely one I would recommend.w
GOVTVA Soft Case for 6.8

Introducing Kindle Paperwhite Signature Edition (32 GB) – With a 6.8

E-Reader Charger, AC Power Supply Charger for Kindle E-Reader Paperwhite 3 4 Oasis E-Reader Voyage E-Reader with 5FT Charging Cable,Micro USB Port

Why an E-Reader?
I love books. Going to the library or a bookstore is one of my favorite things. However, I don't have the space to hold on to all of the books I read. Since I have teenagers, I spend a vast majority of my time in a car waiting for them. I like to throw my iPad or Kindle Paperwhite in my purse and take it with me. This way I can read wherever I am. The Kindle Paperwhite can hold thousands of books so you will never be without! I even bought my kids each a Kindle Paperwhite because they are required to have a book with them at school. This can slip in their backpack or binder very easily.
Other Books by Karen M McManus to Read
When I like an author, and I like Karen M McManus, I tend to read everything they write. Other books by this author that you should check out are:
The Cousins
You'll be the Death of Me
Nothing More to Tell
In 2023, the third and final book in the One of Us is Lying series, One of Us is Back will be out. Go ahead and add the book on GoodReads to remind you when it comes out!