My favorite author, James Patterson, has started releasing middle grade novels with Ali Cross, son of his most popular character, as the main character. I started reading these books for a couple of reasons. First of all, the Alex Cross series is my favorite series. My second reason is so I can recommend this series to people with tween aged boys. One of my most popular questions I get asked is, "what chapter books do you recommend for boys?". Ali Cross Like Father Like Son is definitely a book I recommend!
*As an Amazon Affiliate, I earn from qualifying purchases*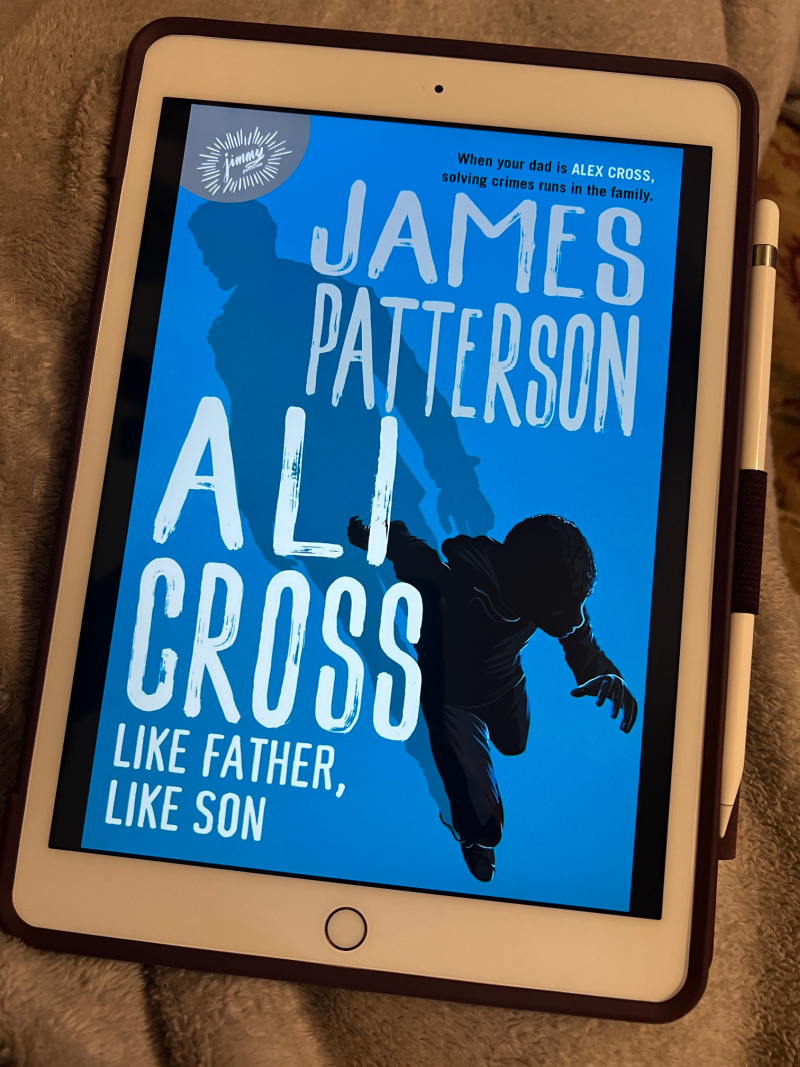 Ali Cross (Ali Cross, 1)

Ali Cross: Like Father, Like Son (Ali Cross, 2)

Ali Cross: The Secret Detective

About Ali Cross Like Father, Like Son
From Audible –
Alex Cross's son Ali is an accomplished mystery-solver and number-one best-selling author. A crime at a concert near his school sparks his newest investigation, and it gets dangerous fast. Sometimes it's good to have a father in the detective business. 

Ali Cross just solved his first real case. Alex Cross knows it's only a matter of time before his son finds his way into more trouble. Neither of them expected Ali to get caught up in another case so quickly. Ali and his friends were just hanging out in Anacostia Park…then they became witnesses to a crime. Alex wants Ali to stay far away from the investigation. But Ali isn't going anywhere, not when his new friend Zoe is in trouble. It's up to Ali to figure out why she's lying to the police – and who she's protecting. This is Ali's toughest case yet. As long as he trusts his Cross instincts, he may just have a shot at solving it….
My Thoughts
I love the book. When my son was a tween, I remember looking really hard to try and find him books that he would want to read. A lot of the tween chapter books he was finding at his school library were about "girl things" and he wasn't interested. Ali Cross Like Father Like Son is totally a book that he would have liked to have read. And as his mom, I would have been happy to see him reading something he liked! Being a huge fan of James Patterson and his Alex Cross series, the Ali Cross series has a similar feel.
MoKo Case for 6.8

All-new Kindle Paperwhite (8 GB) – Now with a 6.8

E-Reader Charger 6.5 Ft Compatible for Amazon Kindle Paperwhite 7 8 9 10 11,Oasis,Voyage,Kindle E-Reader,Kindle DX Kindle Keyboard Kindle Touch(2nd-11th Gen),Fire HD,HDX Tablet

Why a Kindle Paperwhite?
I really believe that a Kindle Paperwhite is the best thing to get kids. First of all, they can only read on them. Unlike other tablets, there are no games available. It's books 24/7! Second of all, when your kids are in middle school (and maybe even upper elementary), they are typically required to have a book with them. My kids middle school didn't allow them to use backpacks. A Kindle Paperwhite was perfect to put in their zippered binder. They always had a book ready to read. And finally, the last reason is that you can store literally thousands of books on a Kindle Paperwhite and it takes up less space than a book!