Getting kids to read can be a chore sometimes. I know when I was a kid, the vast majority of the books were geared towards little girls. Now that I have both a son and a daughter and times have changed a bit, the books still seem to be geared towards girls. Having a daughter that is not interested in girly things, finding books for her (other than non-fiction books. She loves those) can be difficult. That is…until we found the Hilo series of graphic novels.
*As an Amazon Associate, I earn from qualifying purchases*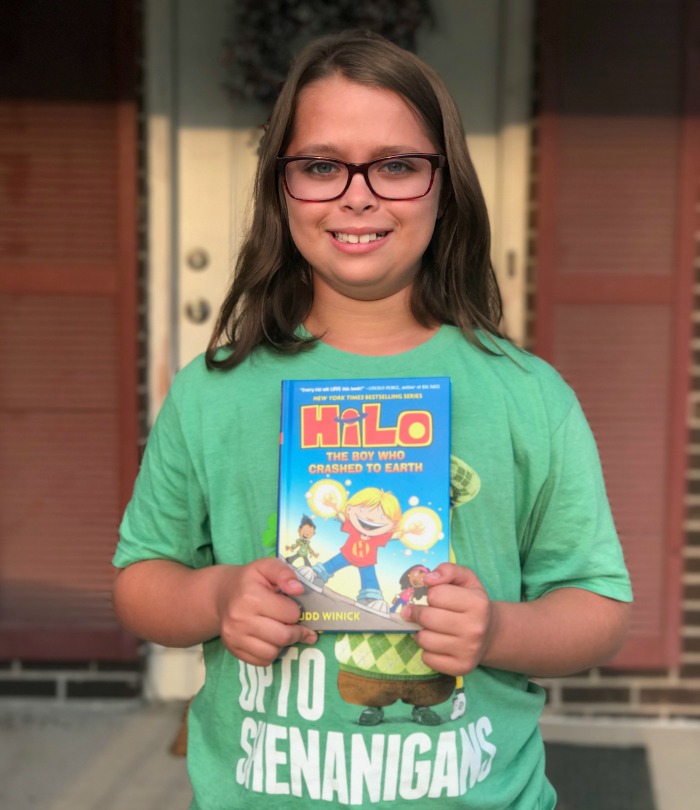 About the Hilo Series
The Hilo series is written by Judd Winick. It is often compared to Calvin and Hobbes, Big Nate and Bones. All amazing comics and graphic novels that kids love.
D.J. and his friend Gina are totally normal kids. But Hilo isn't! Hilo doesn't know where he came from, or what he's doing on Earth. (Or why going to school in only your underwear is a BAD idea!) . . . But UH-OH, what if Hilo wasn't the only thing to fall to our planet? Can the trio unlock the secrets of Hilo's past? Can Hilo SURVIVE a day at school? Find out in HILO-a laugh-out-loud, epic story of friendship! Adventure! (And the occasionally mutant robot ant).
Hilo Book 1: The Boy Who Crashed to Earth

Hilo Book 2: Saving the Whole Wide World

Hilo Book 3: The Great Big Boom

Hilo Book 4: Waking the Monsters

My daughter loves the Hilo series so much so that when my mother in-law told the kids they could pick something from Amazon, she chose to get two books from the series! Books three and four will definitely be purchased for her for Christmas! I know some people aren't fond of graphic novels and feel that they are not really reading if they "read" one, but I disagree. If a graphic novel is what a child chooses to read, then we need to be thankful they have a book in their hands and continue to encourage it!
This series is recommend for kids between the ages of 10 and 12. However, I can definitely see kids younger than 10 liking the series too.
Do your kids like graphic novels? Which ones do they like?