My husband and I have been doing the Keto diet for a few years now. We both have had significant success with this lifestyle change. Unfortunately, life happened and we strayed away a little bit, and the one thing we both felt was terrible. Our bodies felt better without eating all the carbs and sugar. Right before Christmas, we decided that we were going to get strict again. I got this Keto for Foodies cookbook by Nicole Downs and it is one of my favorites!
*As an Amazon Affiliate I earn from qualifying purchases*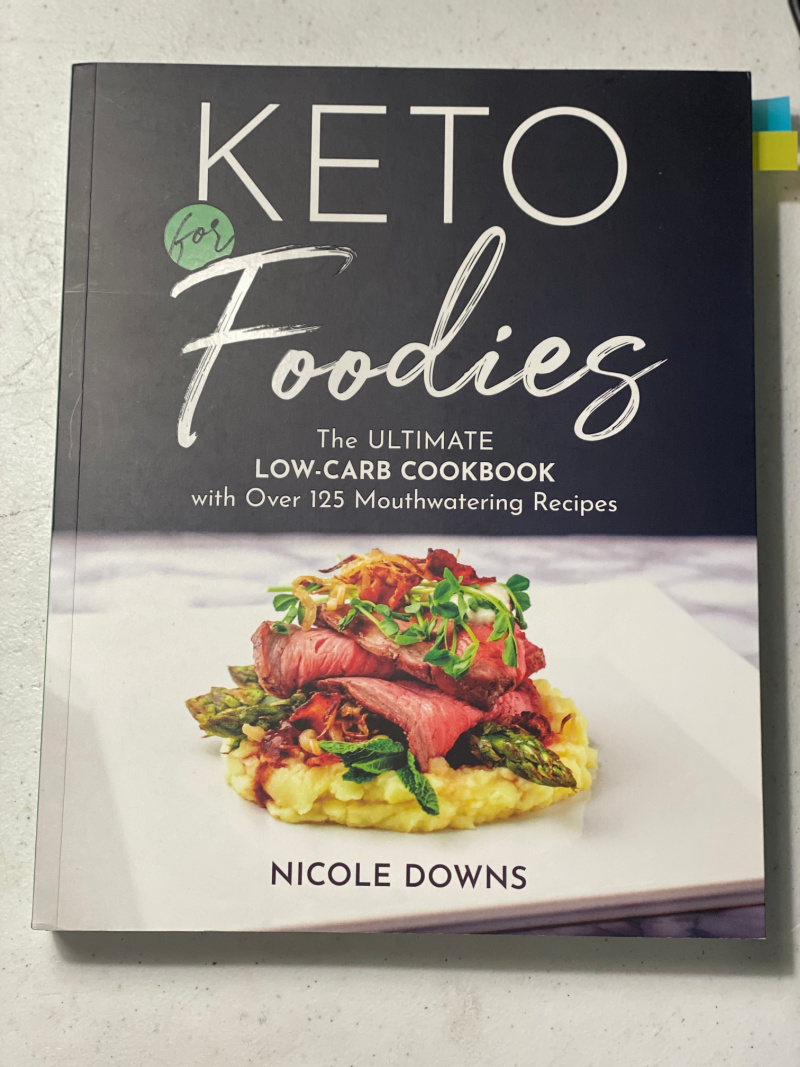 Woopoo Metal Recipe Holder 2 Weighted Chains to Hold Pages in Place and a Kickstand for Durability Collapsible Storage is Light in Weight Support Book and Tablet Placement Cookbook Holder …

Keto For Foodies: The Ultimate Low-Carb Cookbook with over 125 Mouthwatering Recipes

About the Cookbook by Nicole Downs
One of the first things you see when you open this cookbook is the authors story. I think that is very important to read because you see that Nicole Downs is on this Keto journey. She didn't just jump on the "Keto bandwagon" and make a cookbook. The next part is the "nuts and bolts" of the diet. Even though I already knew quite a bit about this lifestyle, I found this part to be very helpful, especially the small section about the Keto sugars. That part is very helpful! However, my absolute favorite part, are the recipes! You will find recipes for dressings/sauces/seasonings, appetizers, breads (yes breads!), soups, salads, sides, main meals, and sweet treats! I like cookbooks and this one is by far one of the best!
Quest Nutrition Tortilla Style Protein Chips, Loaded Taco, Low Carb, Gluten Free, Baked, 1.1 Ounce (Pack of 12)

Tillamook Country Smoker Zero Sugar Original Keto Friendly Smoked Sausages, 10 Ounce

Genius Gourmet Protein Keto Chips, Low Carb, Premium MCTs, Gluten Free, Keto Snack (Spicy Nacho), pack of 8, 1.13 oz. (32 g) each

My Favorite Keto Recipes
As you can see by the tabs on the side of the book, I have used this cookbook! I put a tab at the recipe I made (if I like it) so it makes it easier for me to turn to the recipes I've made and liked. So far I have made bacon jam and a French country stew (I'm making a third recipe from this book tonight). The bacon jam was to die for. Literally. I could have sat there and ate just the bacon jam with a spoon. Each recipe has the macros per serving at the bottom, so it makes it very easy for me to put the meal into My Fitness Pal and track it for the day. You can read more about my Keto journey by visiting these blog posts. Visit my Instagram page to follow my journey.