"This book is a bit disturbing." Those were the words I read when I looked up Verity by Colleen Hoover. I had never read anything by this author, so I looked it up on GoodReads. That was the first sentence of the first review I read. And I was all in! I immediately downloaded the book to my Kindle and started reading. The book was finished in exactly 24 hours from when I started it. You know a book is good when you can't put it down.
*As an Amazon Affiliate, I earn from qualifying purchases*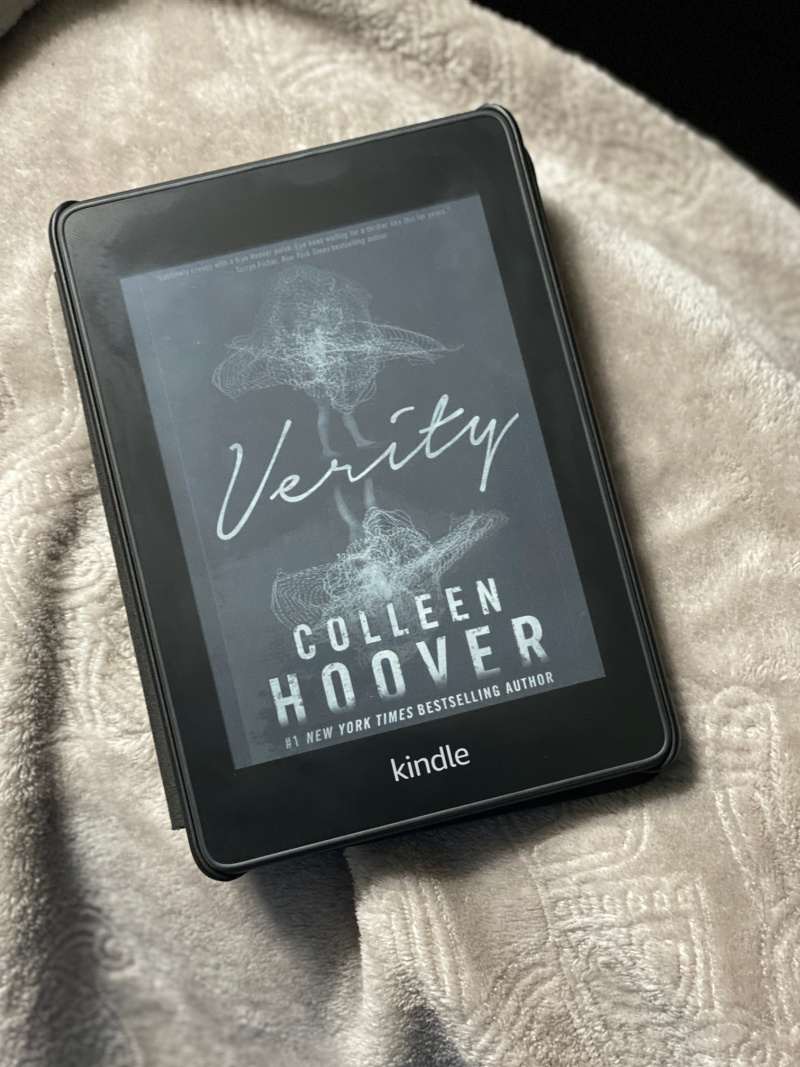 Verity

Ugly Love: A Novel

Regretting You

About Verity by Colleen Hoover
From Amazon –
Lowen Ashleigh is a struggling writer on the brink of financial ruin when she accepts the job offer of a lifetime. Jeremy Crawford, husband of bestselling author Verity Crawford, has hired Lowen to complete the remaining books in a successful series his injured wife is unable to finish. 

Lowen arrives at the Crawford home, ready to sort through years of Verity's notes and outlines, hoping to find enough material to get her started. What Lowen doesn't expect to uncover in the chaotic office is an unfinished autobiography Verity never intended for anyone to read. Page after page of bone-chilling admissions, including Verity's recollection of the night their family was forever altered. 

She decides to keep the manuscript hidden from Jeremy, knowing its contents would devastate the already grieving father. But as Lowen's feelings for Jeremy begin to intensify, she recognizes all the ways she could benefit if he were to read his wife's words. After all, no matter how devoted Jeremy is to his injured wife, a truth this horrifying would make it impossible for him to continue to love her. 

Due to graphic scenes and mature content, this book is recommended for readers 18+.
My Thoughts
This is the best book I have read in a very long time. Yes it was very disturbing…that review was correct. However, despite how disturbing various parts of the book was, the way it was written was amazing. Colleen Hoover definitely has a way with words. Each and every sentence she wrote, painted a picture in my head, as if I was watching the book unfold, rather than reading it. Verity is definitely a book that I could see made into a movie. I hope it will be one day!
Kindle Unlimited Membership Plans
Was Verity Really That Disturbing?
Yes. It really was. There were moments when I was reading it that I needed to close my Kindle and take a breather. While that may spook other people, or even turn them off from the book, it made me love the book all the more! Yes I realize liking to be spooked by the books I read is probably disturbing, in and of itself, but oh well! Let's put it this way, I liked Verity so much that I immediately downloaded another Colleen Hoover book to read! When I like an author, I tend to read everything they've written!
Kindle Paperwhite – Now Waterproof with 2x the Storage – Ad-Supported

E-Reader Charger, AC Power Supply Charger for Kindle E-Reader Paperwhite 3 Oasis E-Reader Voyage E-Reader with 5FT Charging Cable

CoBak Kindle Paperwhite Case – All New PU Leather Smart Cover with Auto Sleep Wake Feature for Kindle Paperwhite 10th Generation 2018 Released, Sky Blue

Is The Kindle Paperwhite Worth It?
In one word, yes! My husband got me the Kindle Paperwhite for my birthday one year and it was absolutely the best present I have ever gotten. I use my Kindle every single day. My Kindle is in my purse at all times. You never know when you will be stuck waiting, which gives you time to read! The other thing that is SOOOOOO recommended, is the Kindle Unlimited membership. For just $9.99 a month, you can download however many books you want to read! It's really come in handy and I have a lot of authors that I love on Kindle Unlimited!