Reading is my absolute favorite pastime. Well, besides napping. As an adult, it cracks me up to see kids so upset to have to nap. If someone told me, "Leah you need to nap right now", I would be in heaven! One of the things I look forward to every month is the Amazon First Reads list. Each month, as an Amazon Kindle Unlimited Member (more about this later), I get to choose a new book from a list of books, for free! Not only for free, but I get it before it comes out! This month I was super excited to see a Minka Kent book on the list. She is one of my favorite authors!
*As an Amazon Affiliate, I earn from qualifying purchases*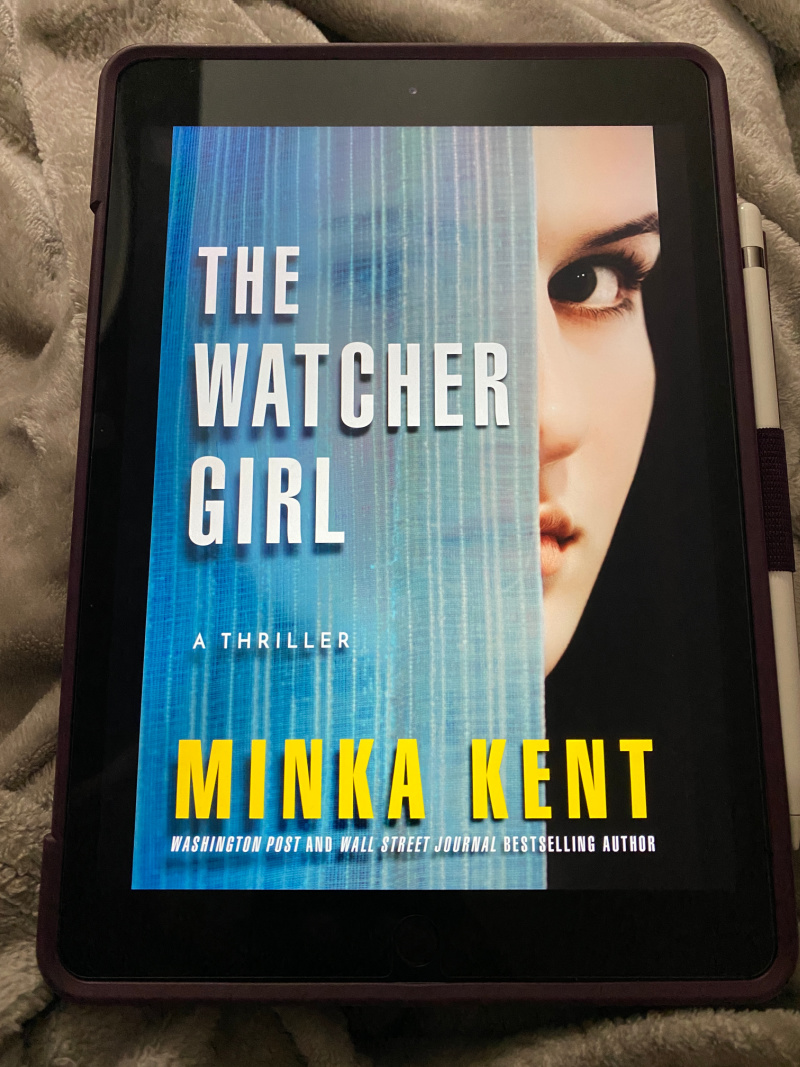 Minka Kent, as I mentioned above, is one of my favorite authors. She's written books like Stillwater Girls and The Thinnest Air, both of which I absolutely loved and couldn't put down. She has a way with her writing where you think you know where the book is going, and you may be slightly right, but then a huge curveball is thrown at you and something happens that you totally did not see coming! I love it!
The Perfect Roommate

The Watcher Girl: A Thriller

The Stillwater Girls

About The Watcher Girl by Minka Kent
From Amazon –
Eight years ago, Grace McMullen broke Sutton Whitlock's heart when she walked away. But it was only to save him from the baggage of her own troubled past. Now all she wants is to make sure he's okay.

Only everything she learns about him online says otherwise. According to his social media accounts, he placed roots in her hometown, married a look-alike, and even named his daughter Grace. He clearly hasn't moved on. In fact, it's creepy. So Grace does what any concerned ex-girlfriend would do: she moves home…and watches him.

But when Grace crosses paths with Sutton's wife, Campbell, an unexpected friendship develops. Campbell has no idea whom she's inviting into her life. As the women grow closer, it becomes clear to Grace that Sutton is not the sentimental man she once knew. He seems controlling, unstable, and threatening. And what a broken man like Sutton is capable of, Grace can only imagine. It's up to her to save Campbell and her baby now—but while she's been watching them, who's been watching her?
Kindle Paperwhite Essentials Bundle including Kindle Paperwhite – Wifi, Ad-Supported, Amazon Leather Cover, and Power Adapter

Kindle Paperwhite – Now Waterproof with 2x the Storage – Ad-Supported

Kindle Paperwhite Water-Safe Fabric Cover (10th Generation-2018), Marine Blue

My Thoughts
Like every other Minka Kent book, this one did not disappoint! From the moment I started reading, I couldn't put the book down. In fact, like many other times that I have read her books, I thought I knew what was going to happen, and while I was slightly right, I was also thrown with what did happen! If you like books that keep you on the edge of your seat and encourage you to continue reading, even when you should have gone to bed hours earlier, then this Minka Kent book is for you!
Kindle Unlimited
I prefer to read my books on my Kindle Paperwhite. To me, it's much easier to shove my Kindle in my purse than a few books. We were traveling last week and had a long flight with layovers. I knew I would read multiple books during that time. With my Kindle Paperwhite, I can store more books than I would ever read in my lifetime! One of the things I picked up when I got my Kindle Paperwhite was a Kindle Unlimited membership. With that membership, I can download as many books as I want (10 out at a time) in a months time, for just $9.99 a month. Since I read about four or more books a month, that membership is more than worth it! Plus, I have many authors I have found on Kindle Unlimited that I really like, so the membership is more than worth it for me! Check out the Kindle Unlimited Membership Plans. You get the first month free!
What Should I Read Next?
I love getting book recommendations. Leave me a comment or shoot me an email with what I should read next! I am open to all types of genres! Thanks!