I am a huge Colleen Hoover fan. Anytime I see a book of hers available on Hoopla, Libby, or Kindle Unlimited, I jump to download it. This past week I was browsing Kindle Unlimited and I came across Never Never by Colleen Hoover and Tarryn Fisher. I instantly downloaded it! And like every other book I have read by this author, I was unable to put it down! I read it in a matter of days!
*As an Amazon Affiliate, I earn from qualifying purchases*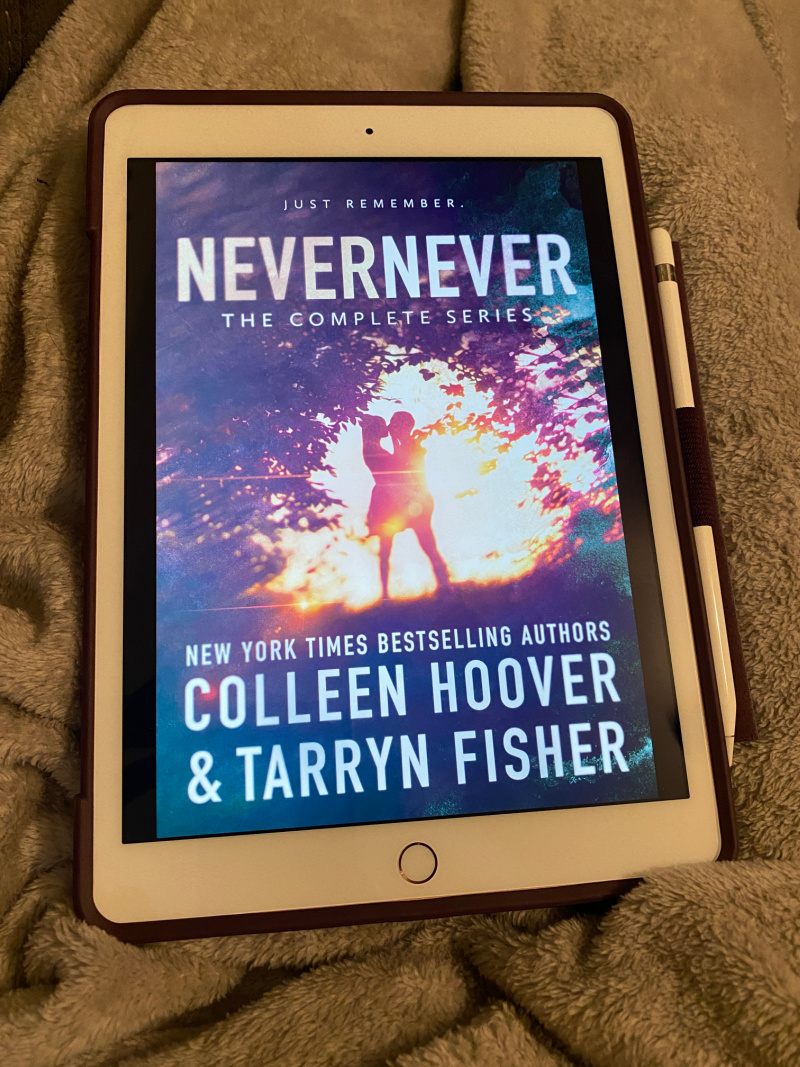 Twelve South BookBook for Kindle Paperwhite 4, 10th Gen 2019 | Distressed Hardback Full-Grain Leather Case and Viewing Easel with Auto-Wake/Sleep

Kindle Paperwhite – Now Waterproof with 2x the Storage – Ad-Supported

Kindle Charger 6.5 Ft Compatible for All Amazon Kindle Paperwhite,Oasis,Voyage,Kindle E-Reader,Kindle DX Kindle Keyboard Kindle Touch(2nd-11th Gen),Fire HD,HDX Tablet

About the Book Never Never
From Amazon –
Together, they have created a gripping, romantic tale unlike any other. "How odd to be made of flesh, balanced on bone, and filled with a soul you've never met."

Charlize Wynwood and Silas Nash have been best friends since they could walk. They've been in love since the age of fourteen. But as of this morning…they are complete strangers. Their first kiss, their first fight, the moment they fell in love…every memory has vanished. "I don't care what our real first kiss was," he says. "That's the one I want to remember."

Charlize and Silas must work together to uncover the truth about what happened to them and why. But the more they learn about the couple they used to be…the more they question why they were ever together to begin with.

"I want to remember what it feels like to love someone like that. And not just anyone. I want to know what it feels like to love Charlie."
My Thoughts on This Book
Well, if you couldn't tell from the opening paragraph, I am completely a fan of this book. Not only is Never Never a great mystery/suspense novel, but it is also a great romance story. This Young Adult novel was interesting from the very start. Imagine walking into class one day and not knowing anyone around you. If that isn't strange enough, imagine not having any memories. Even your own name! Colleen Hoover and Tarryn Fisher do a fantastic job getting you to feel something for characters Silas and Charlie. One of my favorite things is how this book is written with alternating points of view from Silas and Charlie's perspectives.
Never Never: The Complete Series

Maybe Now (Maybe Someday)

Losing Hope: A Novel

Verity

It Ends with Us: A Novel

Ugly Love: A Novel

November 9: A Novel

Regretting You

Why You Need Kindle Unlimited
First of all, Kindle Unlimited is a totally affordable book membership with Amazon. For just $9.99 a month, you get to borrow as many books as you want (10 out at a time)! There are thousands and thousands of books that are part of Kindle Unlimited. I've had this membership for years and love it. I have found so many great authors as a result of this membership. Check out the Kindle Unlimited Membership Plans here. Your first month is 100% free! And the other nice thing…you don't have to have a Kindle Paperwhite (though it is my favorite thing ever)…you can read on your iPad or phone with the Kindle app!
What Should I Read Next?
Please, please, please leave me a comment and tell me what I should read next! I will be having knee surgery soon and I will be laid up for MONTHS! While I will be watching a heck of a lot of Netflix, I will also be reading. I need to build that "must read list" now!