*As an Amazon Associate, I earn from qualifying purchases*
I still remember when the Harry Potter series came out. My husband and I would actually buy two copies of the book because we would fight over who could read it first. The day my daughter said she was interested in beginning the series on her Kindle
was one of the happiest days of my life! No joke. This is a series that every kid should read at least once (or twice or more…) in their life.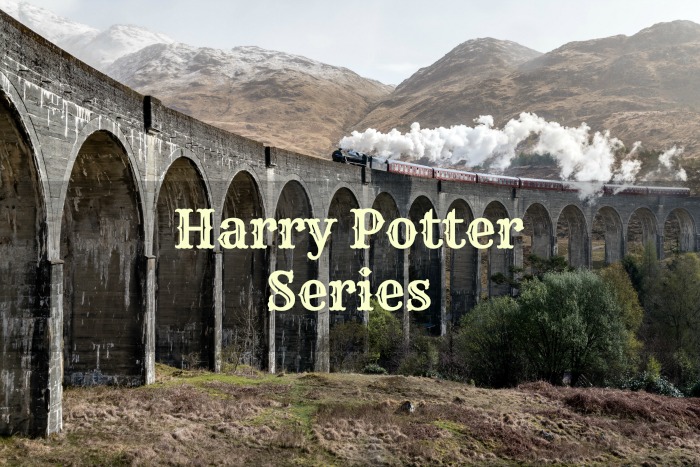 Harry Potter Series
If you haven't heard of the Harry Potter series (or movies), then you have definitely been living under a rock. No worries. Once you are done reading this review, you will want to run out and pick up this series as soon as possible.
– From Amazon-
"Turning the envelope over, his hand trembling, Harry saw a purple wax seal bearing a coat of arms; a lion, an eagle, a badger and a snake surrounding a large letter 'H'."

Harry Potter has never even heard of Hogwarts when the letters start dropping on the doormat at number four, Privet Drive. Addressed in green ink on yellowish parchment with a purple seal, they are swiftly confiscated by his grisly aunt and uncle. Then, on Harry's eleventh birthday, a great beetle-eyed giant of a man called Rubeus Hagrid bursts in with some astonishing news: Harry Potter is a wizard, and he has a place at Hogwarts School of Witchcraft and Wizardry. An incredible adventure is about to begin! 
Harry Potter Paperback Box Set (Books 1-7)

The way J.K. Rowling writes, it draws you in and leaves you wanting more. I remember staying up late just to finish a chapter or the book! My daughter has stayed up very late all summer reading this series. She is excited to find out what happens next. I've never seen her so excited about reading before!
Fun Fact: The K in J.K. Rowlings name is a made up initial. She was told by her publisher that boys would not read about a boy wizard written by a woman!
Are the Books Better than the Movies?
Yes and no. Yes because I firmly believe that books are always better than the movies. In this case, J.K. Rowling does a good job of creating images with her words that you can totally picture in your head. I also say no because there is something magical about the movies, as well. It's fun to see if what you imagined is the same in the movies. As my daughter finishes a book, she watches the movie. She gets very upset with all the little changes from book to movie! She's definitely my kid!
Definitely add the Harry Potter series to your list of things to introduce your kids to. There is nothing cuter than seeing kids running around yelling spells from the books, wearing the robes, drawing scars on their forehead and waving their wands! Plus, once you've become obsessed with it, you can then visit The Wizarding Word of Harry Potter at Universal Studios!
Bundle – 3 items: Harry Potter, Ron Weasley, and Hermione Granger Magic Wands

Child Harry Potter Deluxe Costume Medium

Rubies Harry Potter Broom

Rubie's Harry Potter Golden Snitch Costume Accessory

Douglas Cuddle Toys Stuffed Wizard Snowy Owl

Check out other books for kids and see if there is something else you would like to begin reading!