Can you believe that the school year is almost over? Where has this year gone? It's insane. In a few short months I will have a high schooler (say what?!?) and a middle schooler. I really can't believe it. This year, my daughter really got into reading. She is currently reading the Harry Potter series and loving it. I want to continue to foster that love for reading so I put together this Ultimate Summer Reading Bucket list. After printing one out for each kid, they can hang it in their room and start checking off the different bucket list items! There's something for everyone on this list!
*As an Amazon Associate, I earn from qualifying purchases*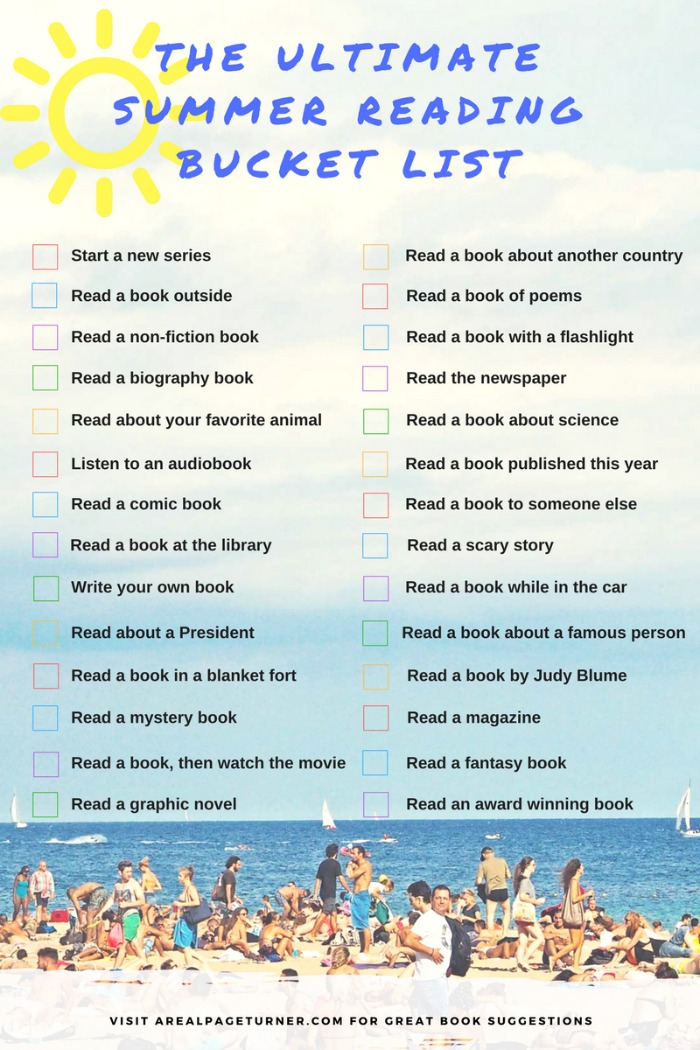 Print out your FREE Summer Reading Bucket List Printable HERE
CafePress – I Like Big Books – Natural Canvas Tote Bag, Cloth Shopping Bag

Relaximals Cat Kids Reading Pillow

The Book Seat – Book Holder and Travel Pillow – Red

One of the things you can do to help foster that love for reading, is to take weekly trips to the library. Not only do you knock an item off the summer reading bucket list, but you also give your child (and yourself) the opportunity to check out a TON of different types of books at once! Definitely utilize the librarian. I can't tell you how many times we've gone up to our librarian, told them an example of a book the kids like and they then give us a bunch more that are similar.
E-Book Reading
If your kids are like my daughter and prefer to read on a Kindle
, then definitely check with your local librarian as to which online service they use to borrow books. My local library uses Overdrive and Hoopla (though, I do believe that Hoopla will only work with a table, not a Kindle since you have to use the Hoopla app). Another great thing with the Kindle is the Kindle Unlimited Membership Plans
. Kindle Unlimited is great! You can borrow up to 10 books at one time. Not sure if you will like it or use it? Click on the link and start your FREE 30 day trial. The Kindle Unlimited membership can be used to read books on a Kindle, on your desktop/laptop computer or on a tablet with the Kindle app.
Kindle Paperwhite E-reader – Black, 6

Fintie Slimshell Case for Kindle Paperwhite – The Thinnest and Lightest PU Leather Cover with Auto Sleep/Wake for all-new Amazon Kindle Paperwhite (Fits all 2012, 2013, 2015 and 2016 Versions), black – EKD0021AD-US

Fire 7 Tablet with Alexa, 7

Whatever you do this summer, READ! Schedule electronic blackout times where you and the kids spend the time reading a book or use this summer daily planner printable and put reading on their daily to do list! Have a conversation about the books you are reading while you eat dinner. Kids like to talk about the books they are reading. As I mentioned, my daughter is reading the Harry Potter series. She's so excited about this series, that she read two books in two weeks. She likes to talk to us about the differences between the book and the movie. And boy does she get upset when they make "stupid changes" in the movie!
Don't forget to print your FREE Summer Reading Bucket List printable RIGHT HERE!