We are FINALLY starting to get warmer weather here in Michigan. While it was cold this weekend (think winter coats and hats…not even joking), the forecast for next we has 80 twice on it! I am beyond excited for the warmer weather and plan on enjoying a pedicure tomorrow to celebrate! Since summer is right around the corner, and for some people, school is out in about 30 days, it has me thinking about my reading list for the summer. To me, summer reading is the best! It doesn't matter where you are reading…when the sun and warmth is involved, it's the best!
*As an Amazon Associate, I earn from qualifying purchases*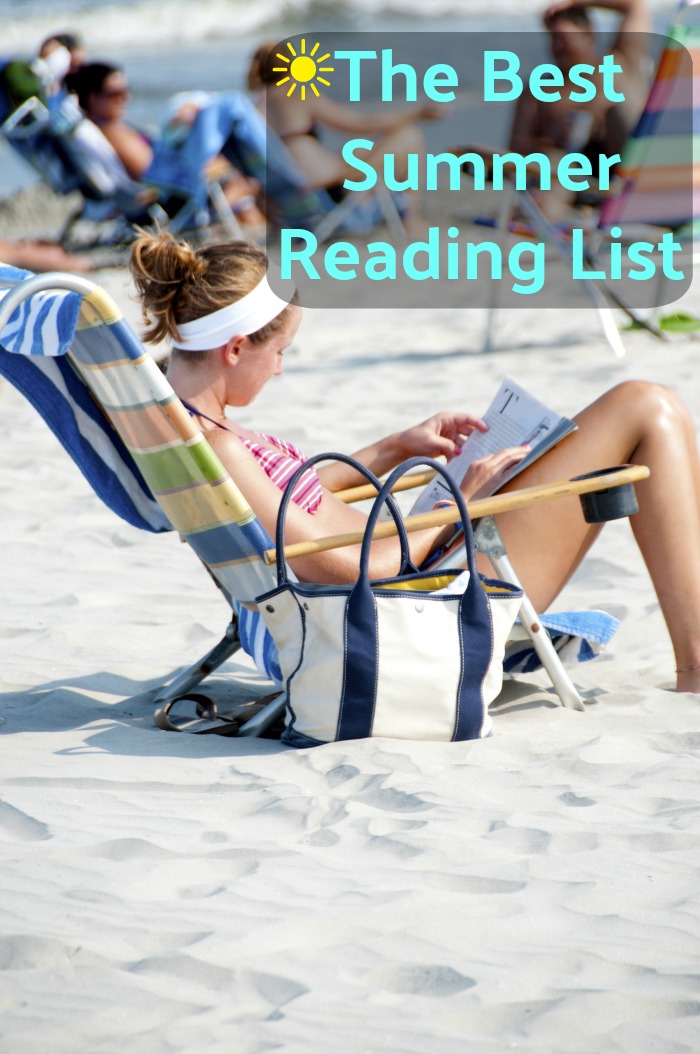 I have a very eclectic taste in books. My number one favorite book to read are series books. I get super invested in the characters and I always like to know more. I'm not going to lie, when a series comes to an end, I get sad. It's almost like saying goodbye to a friend. That probably makes me sound pathetic, but that's OK. That's how invested I get in the characters.
If you like reading with a Kindle
(I totally do), then you need to check out Kindle Unlimited. Right now, for NEW Kindle Unlimited subscribers, you can get a three month membership for just $1.99!! It's normally $9.99 per month! This is a HUGE savings! Give it a try! There are a lot of great series books (and non-series books) available on Kindle Unlimited!
Summer Reading List
I don't know about you, but I am always looking for a new book to read. Getting suggestions from others is one of my favorite things to do. Not only do I value other people's opinions about various books, but it gives us something to discuss afterwards! Below you will find all the books I think you should read this summer. Some are books that I have already read, while others are books on my list to read!
The A Shade of Vampire series is one of my favorites (and it's FREE on Kindle Unlimited). Remember how I told you I like series books? Well this series currently has 59 books out!! Each book is a quick read. Pick up the first few copies for your next vacation and you will be sure to be entertained! The style of writing is also something I very much like. Each book is written from the viewpoint of each character. You know who's "talking" because the author puts their name at the top of each chapter. Definitely give this series a try!
When I'm Gone is an absolutely beautifully written story about a woman that began writing her husband letters on day one of her cancer treatment. She arranged to have those letters delivered to him periodically throughout the first year she was gone, sometimes on special days (holidays, anniversaries, etc). It's through those letters that this husband starts to unravel secrets that makes him question if he truly knew his wife and the life they lived, as well as helped him to see that life does go on. I absolutely LOVED this book. I could not put it down!
This next book was another that I could not put down and it made me want to read everything by this author. Saving Noah challenges you to think about the unthinkable when it comes to your children. Will you still love them the same if they commit an act so heinous it makes you sick to your stomach and cringe, had you heard it about someone else? Will your family be able to withstand something like this? If you haven't read this book, or anything by Lucinda Berry, you need to. She is an excellent author!
Say You're Sorry (Morgan Dane Book 1)

Her Last Goodbye (Morgan Dane Book 2)

Bones Don't Lie (Morgan Dane)

What I've Done (Morgan Dane Book 4)

It's time for another favorite series of mine! The Morgan Dane series is one where you will instantly connect with the characters and become wrapped up in the book. The first three books of the series are currently out. While the fourth book, What I've Done, can be pre-ordered and is set to release in September. This series is about a woman who started her career as a prosecutor. After helping a friend out by defending her son who has been accused of murder, Morgan has jumped the prosecutor ship and teamed up with a P.I. firm to begin defending those she would have otherwise put in jail.
If you like a book that has you saying, "wait…what?" in the middle and then causes you to stay up late until you finish the book, then this book definitely needs to make your summer reading list. I remember when I read this book. I was at a lacrosse tournament for my son. While the kids played in the pool, I read. I actually gasped out loud, causing my daughter to ask me what was wrong, when I got to a certain point in the book. From that moment on, I read every second I could. I had to see how this book ended and I had to see how it ended right that second!
Along Came a Spider (Alex Cross Book 1)

James Patterson is my absolute favorite author. I have been reading his books for many years now. While James Patterson has a lot of stand alone books, I believe his series books are where he excels. The Alex Cross series is my favorite. The first book, Along Came a Spider (which was also adapted into a movie
) captures your attention and has you on the edge of your seat. Visit James Patterson's website for more info on the order of the Alex Cross series. I highly recommend this series.
1st to Die (Women's Murder Club)

While I am singing James Patterson praises, another series by the same author that you need to add to your summer reading list is the Women's Murder Club series. Like the Alex Cross series, you will get invested in these characters and literally begin chomping at the bit for the next one to be released. This series follows the four main characters: a homicide detective, a lawyer, a crime reporter and the city medical examiner. Together they make up the Women's Murder Club and they join forces to solve some pretty horrible crimes.
Do You Ever Read Anything Else?
I pretty much tend to gravitate towards the serial killer, suspenseful type books. However, I also like to read memoirs written by various celebrities, autobiographies, and non-fiction books. Some of those books can be seen below. Like I said, I have a very eclectic taste in books!
 sTORI Telling

 Spilled Milk: Based on a true story

 Scrappy Little Nobody

 Stolen Innocence: My Story of Growing Up in a Polygamous Sect, Becoming a Teenage Bride, and Breaking Free of Warren Jeffs

 The Stranger Beside Me

 Neil Patrick Harris: Choose Your Own Autobiography

 Fat Girl Walking: Sex, Food, Love, and Being Comfortable in Your Skin…Every Inch of It

 Escape

If you have read any of the books above, please leave me a comment and tell me what you thought of them! I truly hope you add one or some of these books to your summer reading list. Also, if there are books that you think I just have to read, please tell me! I am always looking for books to read. To stay up to date on everything that is posted here, please consider signing up for my news letter. Your emails are secure and they will never be sold or used for any other purpose than to send updates when I post something new.
I hope you have a wonderful summer and enjoy your summer reading!