Reading didn't always come easy for my son. He struggled for several years during elementary school. As a parent, it is really hard to watch your child struggle with any aspect of reading. They so desperately want to read what their friends are, but have a hard time getting through the book. Besides always encouraging them to read and reading with them, it's also good to make sure that you have books available to they want to read and interests them. Below are some of the best early chapter books that my son (and daughter) really liked!
*As an Amazon Associate, I earn from qualifying purchases*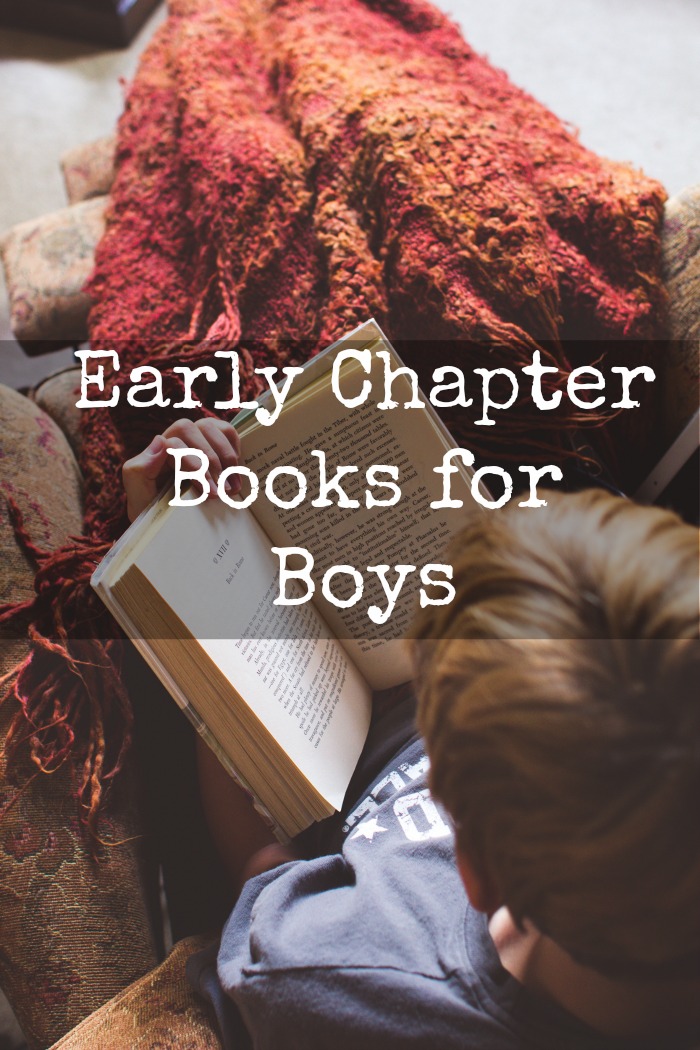 When my son was little, I remember it seeming like it was really hard to find books that were geared towards little boys. Everything seemed really girly. However, after many trips to the library and scanning Amazon, we were able to find a bunch of books that my son liked.
Early Chapter Books for Boys
The first early chapter books I remember my son liking, was the Geronimo Stilton series. This series is about a newspaper editor that is spooked by the littlest things. Each book is about him being brought into one crazy adventure after another. With full color pictures and text, this book series is one your son will love to read!
Lost Treasure of the Emerald Eye (Geronimo Stilton, No. 1)

Like Geronimo Stilton, this next series by Jeff Brown is also about a boy and his various adventures. Flat Stanley takes you with him on his adventures while he fits under doors, slides down drainage grates, etc. Your son will be entertained from start to finish!
The Flat Stanley Collection Box Set: Flat Stanley, Invisible Stanley, Stanley in Space, and Stanley, Flat Again!

What little boy doesn't love aliens? The Alien in my Pocket series is a cute series that are quick reads and enjoyable. Two kids and a little blue alien set out on an adventure to save the world from an invasion. This book is filled with illustrations to peak your child's imagination and keep them coming back for more!
Alien in My Pocket #1: Blast Off!

The Fly Guy series has always been a favorite in this house. With 20 books currently in the series, Tedd Arnold has captured kids interest with a fly! Book one starts out with Buzz capturing a fly for the pet talent show. Everyone tells Buzz that a fly can't be a pet. Buzz and Fly Guy prove them wrong, all while entertaining kids and giving them the confidence the need to read early chapter books!
 What kid doesn't dream about being a millionaire when they get older? With this next book series, Benji Franklin, Kid Zillionaire kids are introduced to the concept of being an entrepreneur, making money and using the money for good…not selfish means. I think, in this day and age, that is such an excellent message for our kids!
Benji Franklin: Kid Zillionaire

When I was growing up, I had teachers that put down kids for reading comic books. It's always been my philosophy that I want my kids to be reading. I didn't care what it was that they read (so long as it was appropriate). My son enjoys graphic novels. So long as the book is appropriate for his age and ability, I encourage graphic novels. These are a few of his favorites:
The Adventures of Ook and Gluk, Kung-Fu Cavemen From the Future (Captain Underpants)

Hilo Book 1: The Boy Who Crashed to Earth

Dog Man: From the Creator of Captain Underpants (Dog Man #1)

Star Wars: Jedi Academy

Be sure to check out these great early chapter books for boys (and girls…my daughter liked them too). I always like to make sure my kids get books as part of any gift I give them. These would be perfect for the holidays. Pick them up, put them away and watch your child's love for reading grow and grow! Check out my list of books for tween girls.
What early chapter books would you add to the list?