Kids are starting to go back to school (mine don't go back until the day after Labor Day) and parents are scrambling around to get the best deals on markers, notebooks, and other back to school supplies. One thing that you may not realize your kid needs, but could prove to be a good thing to have, is a Kindle e-reader. Not only could it be great to have for the classroom, but it is also great for trips, reading at night, etc.
*As an Amazon Associate, I earn from qualifying purchases*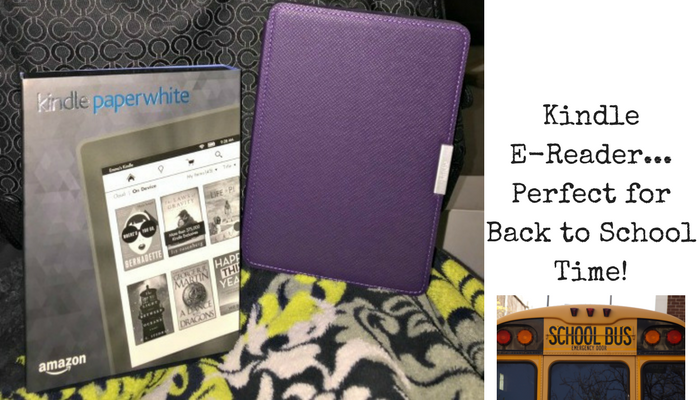 Now, before you look at me like I have two heads and tell me I'm crazy for suggesting this, hear me out. When my son went to middle school, it was a requirement that they always had a silent reading book with them. They had mandatory silent reading time in homeroom, as well as plenty of other times throughout the day as they finished class work. If they ever forgot to bring a silent reading book to class, they would get in trouble. Kids shouldn't have to take more than one book with them just because they are close to finishing one of them. Because, who needs that extra added weight?!?
About the Kindle E-Reader
If you aren't familiar with a Kindle, you need to be! I got one almost two years ago and it is my absolute favorite gift I've ever gotten. There are four different Kindle e-reader options:
Kindle
Kindle Paperwhite
Kindle Voyage
Kindle Oasis
Kindle E-reader – Black, 6

Kindle Paperwhite E-reader – Black, 6

Kindle Voyage E-reader, 6

Kindle Oasis E-reader with Leather Charging Cover – Black, 6

The Kindle is your basic e-reader device. It is lightweight, as are the other three, but it has a lower resolution and it is not backlit so you cannot read in the dark with it, unless you have a light of some sort (like possibly this light
). Each of the other three types of Kindles offer a higher resolution, a built in-light, plus other features. I have the Kindle Paperwhite and personally prefer that one over the others. The price point is perfect and it does what I need it to do.
Why Is It Good For School?
You may still be asking yourself, "why does my child need a Kindle e-reader for school?". The answer is, he or she doesn't need it, but it may come in handy for a number of reasons. Nowadays, kids are carrying so much stuff to school. An added book or two for silent reading could potentially make things a lot heavier or awkward to carry. With a Kindle, they can have literally thousands of books on there; it stays charged for weeks at a time; it is lightweight; and it doesn't take up much room.
Doesn't that sound like a good idea? Plus, they can borrow books from your local public library or sign up for Kindle Unlimited. With Kindle Unlimited, you have thousands upon thousands of books at your fingertips, all for a small monthly fee. I personally love having Kindle Unlimited! Sign up for a free 30 day trial to see how you like it!
Be sure to check out the different Kindle e-reader options and pick one up today while they are on sale! Happy back to school shopping!