My birthday was last week and my husband and kids got me a new e-reader. They know how much I love to read. The e-reader I had before my birthday literally went everywhere with me. So getting me something to do with reading is really the perfect gift to give. So my husband and kids got me the Kindle Oasis. A definite step up from the e-reader I was previously using. Or was it? Continue reading to find out the best e-reader from Amazon.
*As an Amazon Associate, I earn from qualifying purchases*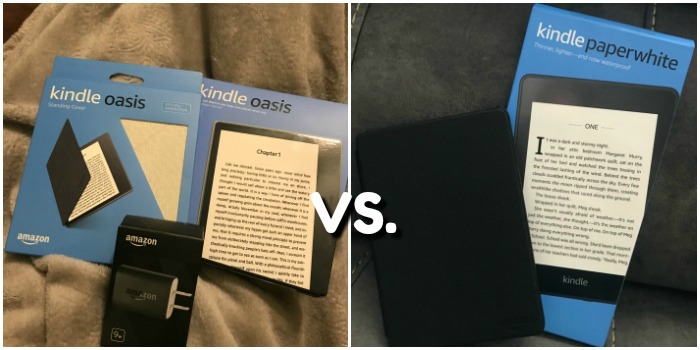 A New E-Reader
My previous e-reader, the Amazon Kindle Paperwhite
, was about four years old and something I used daily. It went everywhere with me. Since I spend most of my time (it seems) in car lines or at sports practices, having something to do, that I enjoyed, was important. My old Paperwhite was still in very good condition. The battery would stay charged for about three weeks (instead of five or six weeks), but it did lag a bit when I was trying to turn pages. I mentioned it to my husband in passing and he got it stuck in his head that he wanted to get me a new e-reader for my birthday.
All-new Kindle Paperwhite – Now Waterproof with 2x the Storage – Includes Special Offers

All-New Kindle Paperwhite Leather Cover (10th Generation-2018), Black

Amazon 5W USB Official OEM Charger and Power Adapter for Fire Tablets and Kindle eReaders

Amazon Kindle Oasis
I've always looked at the Kindle Oasis
. Mainly because it had buttons that you press to turn the pages. However, I never could justify spending all that money extra just for buttons to turn the pages. My husband, on the other hand, is a firm believer that gifts are just that…gifts and you don't need to justify a gift. As you can guess, he and the kids got me the Kindle Oasis. The buttons aren't the only great thing about the Oasis. A few other notable features are:
It's waterproof
Has bluetooth to use with Audible
Auto-Brightness feature
But…do those features make it the best e-reader?
My Thoughts on the Kindle Oasis
I'm not going to lie, I was pretty geeked to open up and charge the new Kindle Oasis. However, my excitement pretty much ended right there. From the moment I started using the Kindle Oasis, it was a nightmare. The battery was draining like crazy. We're talking, down below 40% after only two days. This is a device that Amazon says will stay charged for weeks and weeks. I read online that you need to have it in airplane mode to preserve the battery. So I charged it back up, turned on airplane mode, and it STILL was draining very quickly. We went to the Amazon Pop-Up that my husband bought the Oasis at and exchanged it for another one. Guess what? Not only did that battery drain too, but the auto-brightness was screwy too. UGH. Back to the Amazon Pop-Up we went.
What Now?
So, like I said, we went back to the Amazon Pop-Up. I opted to get the new Kindle Paperwhite (10th generation). I figured I had good luck with the Kindle Paperwhite in the past, why change just for buttons? Not to mention, with my previous Paperwhite, I never turned on airplane mode. Why would I? If I keep airplane mode on and I forget the Kindle at home, then I will not be able to take advantage of the Whispersync capabilities of the Kindle and use the app on my phone to continue reading the book. That just seems stupid that Amazon would have the Whispersync capabilities, but then be like, "oh yea so you need to choose between keeping it charged for weeks or having it sync to the app". That makes zero sense to me. I'm happy to report that the battery is still fully charged after multiple days and several hours of reading. Ding, ding, ding! I think we have the best e-reader from Amazon winner!
If you are getting a Kindle Paperwhite (the best e-reader) or some other tablet that you can use the Kindle app on, I HIGHLY recommend the Kindle Unlimited subscription. Simply click on the box above and get your first month absolutely free! I've had the Kindle Unlimited membership for the last four years and I love it! The
Morgan Dane Series by Melinda Leigh
and 
A Shade of a Vampire Series
by Bella Forrest are two of my favorite series that I've read, thanks to Kindle Unlimited.
What is your favorite book that you think I should read?