Over the years, I have read a lot of books. On this site, I write about all of the books I like. You'll never see a book on here that I didn't like. I don't see the point in writing about something I didn't like. Just the other day, I finished a book that is probably the best book I've ever read. That book is The Nightingale by Kristin Hannah. Since finishing the book, I have talked to three people about the book. Talked about is putting it mildly. I raved about the book and now I want to read everything by Kristin Hannah.
*As an Amazon Affiliate, I earn from qualifying purchases*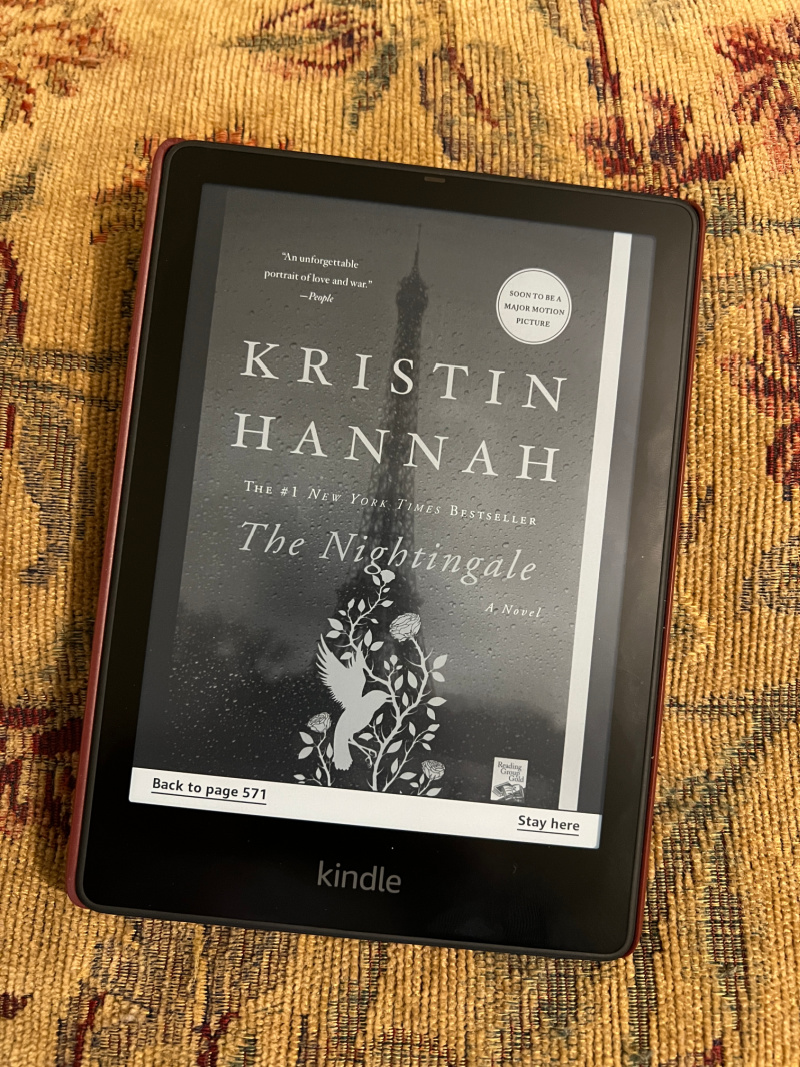 Summer Island: A Novel

The Nightingale: A Novel

The Great Alone: A Novel

About The Nightingale by Kristin Hannah
From Amazon –
France, 1939 – In the quiet village of Carriveau, Vianne Mauriac says goodbye to her husband, Antoine, as he heads for the Front. She doesn't believe that the Nazis will invade France … but invade they do, in droves of marching soldiers, in caravans of trucks and tanks, in planes that fill the skies and drop bombs upon the innocent. When a German captain requisitions Vianne's home, she and her daughter must live with the enemy or lose everything. Without food or money or hope, as danger escalates all around them, she is forced to make one impossible choice after another to keep her family alive.

Vianne's sister, Isabelle, is a rebellious eighteen-year-old girl, searching for purpose with all the reckless passion of youth. While thousands of Parisians march into the unknown terrors of war, she meets Gäetan, a partisan who believes the French can fight the Nazis from within France, and she falls in love as only the young can … completely. But when he betrays her, Isabelle joins the Resistance and never looks back, risking her life time and again to save others.

With courage, grace, and powerful insight, bestselling author Kristin Hannah captures the epic panorama of World War II and illuminates an intimate part of history seldom seen: the women's war. The Nightingale tells the stories of two sisters, separated by years and experience, by ideals, passion and circumstance, each embarking on her own dangerous path toward survival, love, and freedom in German-occupied, war-torn France―a heartbreakingly beautiful novel that celebrates the resilience of the human spirit and the durability of women. It is a novel for everyone, a novel for a lifetime.
My Thoughts
Well, as you know, since I've already told you, this is the best book I've ever read. And the funny thing to me is, this is totally NOT a genre I ever read. Like ever. My husband was surprised I wanted to read it, but I had heard really good things about it and my sister in-law told me it was going to be a movie, so I read it. And I loved it. Like…I couldn't put the book down, I stayed up way to late many days in a row, loved it. The book has 608 pages, but please don't let that scare you away. It almost scared me away. I can't tell you the last time I read a book that long. To be honest, I don't know if it's everything that is going on with Russia and Ukraine right now or what, but I was just really into this book. I had learned about everything that went on with World War II, but the way that Kristin Hannah writes about it had me horrified and upset that people had to go through that. Likewise, it made me really think about what people are going through right now in Ukraine. I truly believe this movie is going to be fantastic.
NuPro Antimicrobial Screen Protector for Kindle Paperwhite Signature Edition (11th generation, 2021)

Kindle Paperwhite Signature Edition Essentials Bundle including Kindle Paperwhite Signature Edition – Wifi, Without Ads, Amazon Cork Cover, and Wireless charging dock

QIYI Case for 6.8

Kindle Paperwhite Signature Edition
If you have been following me here or at my other blog, Diaries of a Domestic Goddess, then you know that I love my Kindle. I used my last Kindle so much, I think I wore it out! For my birthday this year, my husband got me the new Kindle Paperwhite Signature Edition. This thing is amazing! The reading portion of the screen is bigger…more edge to edge; it stays charged for weeks and weeks; and it has wireless charging and is fully charged so fast! Having a Kindle is really nice for me. It fits in my purse and literally goes everywhere with me. I usually get to my daughters soccer practice about 30 minutes early to insure I get at least 30 minutes of reading a day. But lets be real, I read WAY more than that in a day! If you are looking for a great gift, I would seriously consider a Kindle Paperwhite.
Other Books by Kristin Hannah
When I like a book, I become obsessed with the author (Colleen Hoover anyone?!). I now have a huge list of books by Kristin Hannah that I will start reading once I finish the one I just started. I compiled a bunch below. Please let me know if you have read any and which ones I should definitely read next!