One of my favorite authors, that I read several of his series books, is James Patterson. He is the author of the ever popular Alex Cross series and the Women's Murder Club series (among others). I've been reading the Alex Cross series for about 20 years. As soon as I find out that James Patterson has a new Alex Cross book coming out, I instantly go on the Libby app and reserve it for my Kindle! Deadly Cross is the latest book in the Alex Cross series. Like every other Alex Cross book, this one most definitely did not disappoint!
*As an Amazon Affiliate, I earn from qualifying purchases*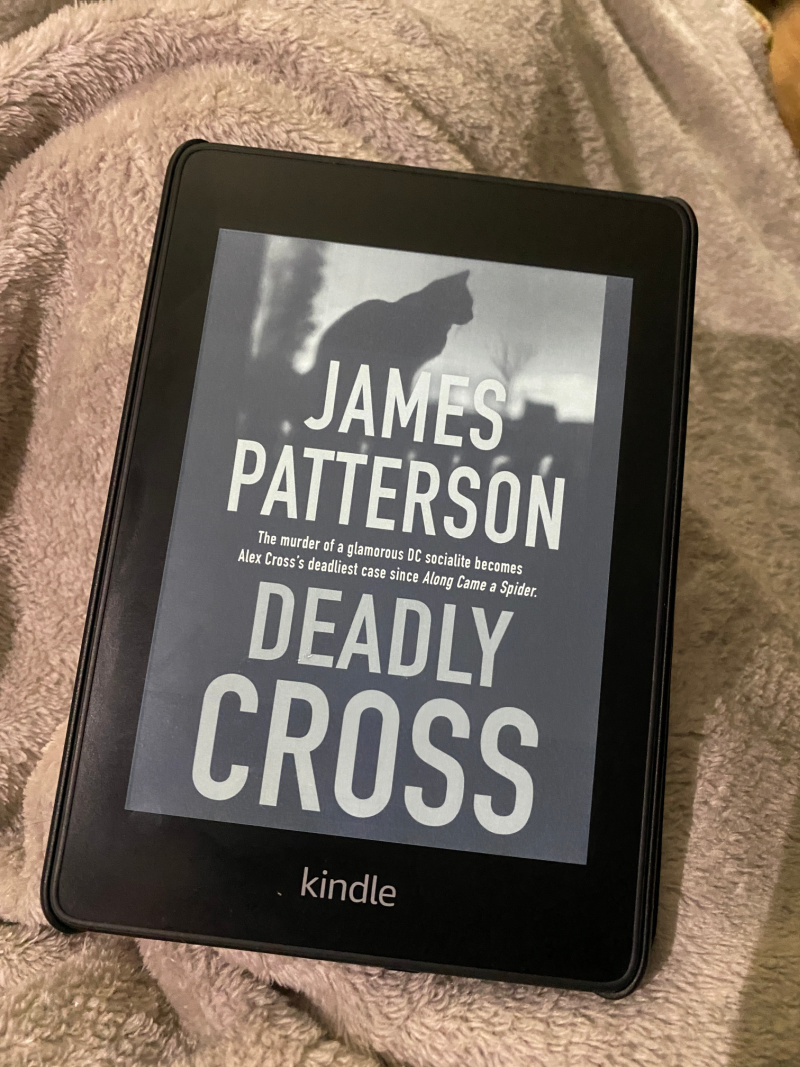 Deadly Cross (Alex Cross, 28)

Criss Cross (Alex Cross, 25)

Target: Alex Cross (Alex Cross, 24)

About Deadly Cross
From Amazon –
A double homicide in the nation's capital opens the psychological case files – on Detective Alex Cross.

Kay Willingham led a life as glamorous as it was public – she was a gorgeous Georgetown socialite, philanthropist, and the ex-wife of the vice president. So why was she parked in a Bentley convertible idling behind a DC private school, in the middle of the night, with the man who was the head of that school? Who shot them both, point blank, and why? The shocking double homicide is blazed across the internet, TV, newspapers – and across Alex Cross's mind. Kay had been his patient once. And maybe more. 

While John Sampson of DC Metro Police investigates the last movements of Christopher Randall, the educator killed along with Kay Willingham, detective Alex Cross and FBI special agent Ned Mahoney find unanswered questions from Willingham's past, before she arrived in DC and became known in Washington society as someone who could make things happen. They travel to Alabama to investigate Kay's early years. There they find a world of trouble, corruption, and secrets, all of them closed to outsiders like Cross and Mahoney.

Kay had many enemies, but all of them seemed to need her alive. The harder the investigators push, the more resistance they find when they leave behind the genteel law offices and doctors' quarters of the state capital. Alex Cross will need to use all his skills as a doctor, a detective, and a family man to prevent that resistance from turning lethal…again.
Merry Christmas, Alex Cross (Alex Cross, 19)

Criss Cross (Alex Cross Book 27)

Along Came a Spider (Alex Cross, 1)

My Thoughts
Well…first…I read the book in a day and a half. So I guess you could say, I liked it! Actually, I like Deadly Cross a lot. Like I said before, James Patterson is one of my favorite authors. With that said, sometimes when he has a co-author, the book doesn't  have the "James Patterson voice". Deadly Cross, however, was 100% James Patterson. The old James Patterson. I loved it! The simplistic sentence structure, and I do not mean that as an insult, keeps me engaged and moves the story along. Moves it along so much that I finished it very quickly! I'm sure the next people in line to read the book at the library was very pleased that I returned it so quickly!
Twelve South BookBook for Kindle Paperwhite 4, 10th Gen 2019 | Distressed Hardback Full-Grain Leather Case and Viewing Easel with Auto-Wake/Sleep

Kindle Paperwhite – Now Waterproof with more than 2x the Storage, 32 GB, Wi-Fi + Free Cellular Connectivity

E-Reader Charger, AC Power Supply Charger for Kindle E-Reader Paperwhite 3 Oasis E-Reader Voyage E-Reader with 5FT Charging Cable

What Else Does James Patterson Write?
I could literally sit here all day and write out every single thing James Patterson has written, but the best thing I cold do is send you to his website. At his website you will see a list of his books, as well as, each book series broken up with reading lists. If you are like me, you will want to read the books in order. I highly recommend you do. The older Alex Cross books are so good and they provide you with a TON of backstory. If you have children, he writes excellent books for kids. When my kids were tweens (especially my son) they really enjoyed his books. They made them laugh!