When I choose my books, I tend to gravitate towards stories with mysteries, serial killers, etc. Typically, if the book scares me, then I will like it. And the funny thing is, my husband used to travel a lot for work. I would read these books while he was gone and yes, I would scare myself! Despite liking more challenging subjects, I also like a good, old fashion romance novel. I refer to them as my brain cleanser after reading something scary! Now, as you know, I am a Colleen Hoover fan. So, when it was recommended I check out another book by this author, I immediately placed a hold on it in my Libby app. November 9 by Colleen Hoover did not disappoint.
*As an Amazon Affiliate, I earn from qualifying purchases*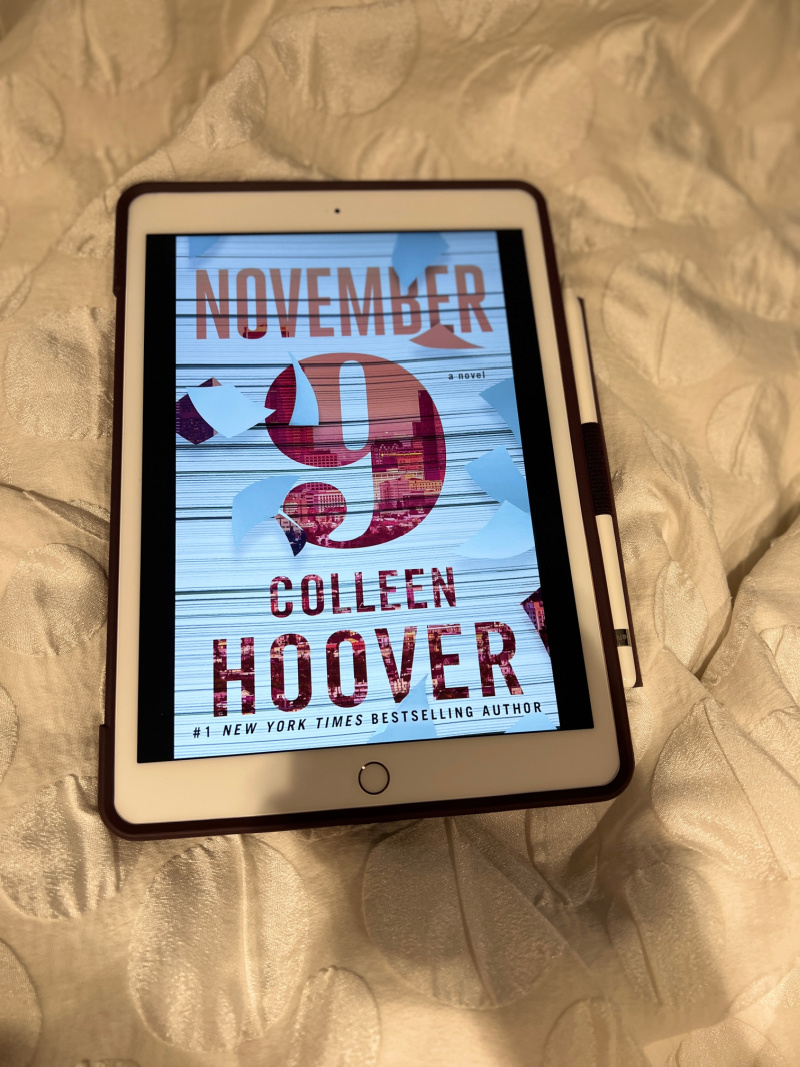 Socksmith Time For A Good Book Blue Heather 9-11 (Women's Shoe Sizes 5-10.5)

Knock Knock Original Personal Library Kit & Gift for Book Lovers – Card Catalog Checkout Cards, Bookplates, Date Stamp & Inkpad

Book Couch iPad Stand, Tablet Stand and Book Holder, Reading Pillow Cushion in Bed at Home Travel, Lap Rest Support, Gift Idea Compatible with eReader/Kindle/Smartphone (Grey)

About the Romance Novel, November 9
From Amazon – 
Fallon meets Ben, an aspiring novelist, the day before her scheduled cross-country move. Their untimely attraction leads them to spend Fallon's last day in Los Angeles together, and her eventful life becomes the creative inspiration Ben has always sought for his novel. Over time and amidst the various relationships and tribulations of their own separate lives, they continue to meet on the same date every year. Until one day Fallon becomes unsure if Ben has been telling her the truth or fabricating a perfect reality for the sake of the ultimate plot twist.

Can Ben's relationship with Fallon—and simultaneously his novel—be considered a love story if it ends in heartbreak?
Not a very long synopsis, but sometimes I prefer that. It has just enough to pull me in to read the book, but doesn't give much away.
My Thoughts on the Book by Colleen Hoover
When this book was first recommended to me, I was kind of not feeling it. I read the short synopsis and it made me think of that Anne Hathaway movie, One Day. That movie wasn't my favorite. It wasn't a bad movie, but not one I cared to watch again. However, November 9 was a Colleen Hoover novel. We all know how much I enjoy her books. It's also a romance novel and I was needing a brain cleansing right about then, so I gave it a try. I'm glad I did. I found the characters to be likable and believable. Nothing annoys me more than not believing and buying into the characters. I know some people say the plot is everything in a book, and they aren't wrong, but if you can't buy into the characters, does the plot even matter at that point? While reading, I was waiting for that big OMG moment. There had to be one and boy was there. I think I may have gasped out loud on the airplane. Actually, I know I did! All in all, I really enjoyed this book.
Verity

Colleen Hoover 3 Books Collection Set (November 9, Ugly Love, It Ends with Us)

Regretting You

A Kindle Makes a Great Gift!
My favorite gift I ever got was my Kindle Paperwhite. Being a mom, I am forever sitting in a car line somewhere. With my Kindle Paperwhite, I can shove it in my purse and take it anywhere with me. I always have a few books downloaded on it, ready for me to read. With my Kindle Unlimited membership and my Libby app through our public library, I always have access to books. You can learn more about the Kindle Unlimited Membership Plans here. I've had this membership for years and it really is a valuable membership. Right now the Kindle Paperwhite is on sale!
Fintie Slimshell Case for 6

Kindle Paperwhite – (previous generation – 2018 release) Waterproof with 2x the Storage – Ad-Supported

Power Adapter Fit for Amazon Kindle Paperwhite E-Reader Power Supply Adapter Charger Cord

Be sure to let me know if you've read this book. I would love to hear your thoughts on it. Likewise, leave me a comment with a book I should read next!