My very introduction to Colleen Hoover and her books was to Verity. That book had me from literally the first chapter. I couldn't put the book down and from that moment, I was hooked on everything by this author! Recently I was on a plane and needed something to read. Right before they closed the doors to the plane, I got a notification that a book I had on hold was finally ready to download. I quickly downloaded It Ends with Us and spent the next three and a half hours reading.
*As an Amazon Affiliate, I earn from qualifying purchases*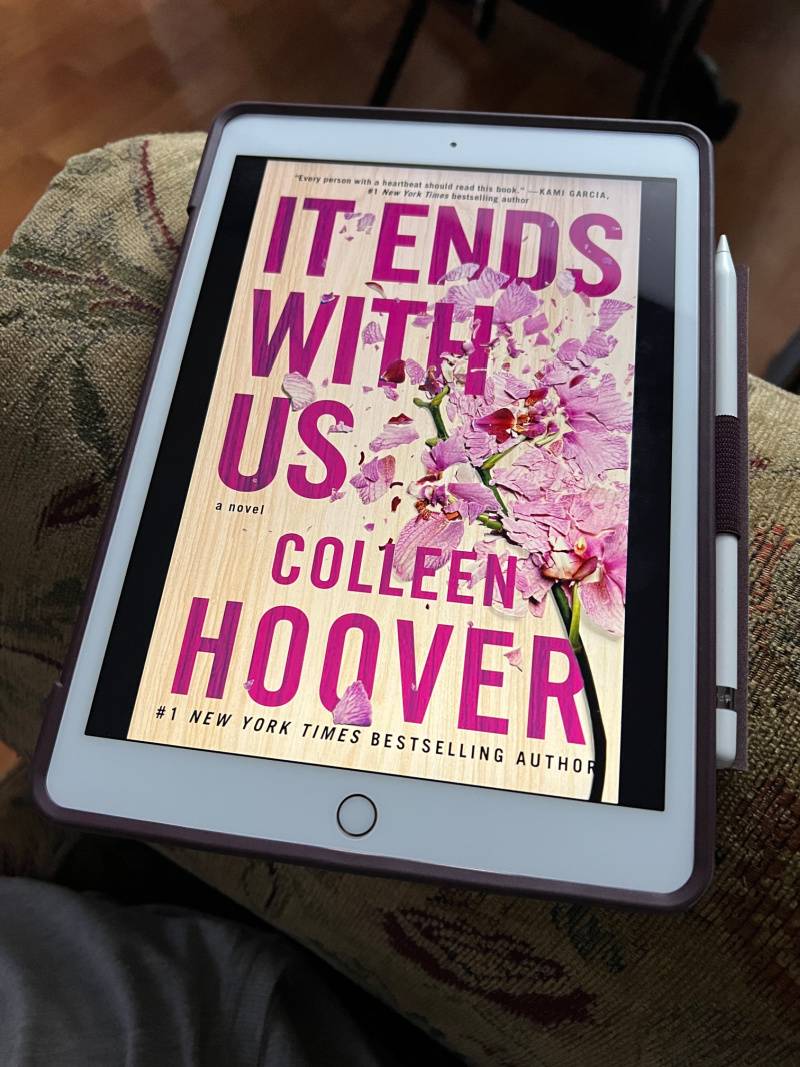 Fintie Slimshell Case for 6

Kindle Paperwhite – (previous generation – 2018 release) Now Waterproof with 2x the Storage – 8 GB (International Version)

AC Charger Adapter Fit for Amazon Kindle Paperwhite E-reader with 5ft Micro USB Cable(White)

About It Ends with Us by Colleen Hoover
From Amazon – 
Lily hasn't always had it easy, but that's never stopped her from working hard for the life she wants. She's come a long way from the small town where she grew up—she graduated from college, moved to Boston, and started her own business. And when she feels a spark with a gorgeous neurosurgeon named Ryle Kincaid, everything in Lily's life seems too good to be true.

Ryle is assertive, stubborn, maybe even a little arrogant. He's also sensitive, brilliant, and has a total soft spot for Lily. And the way he looks in scrubs certainly doesn't hurt. Lily can't get him out of her head. But Ryle's complete aversion to relationships is disturbing. Even as Lily finds herself becoming the exception to his "no dating" rule, she can't help but wonder what made him that way in the first place.

As questions about her new relationship overwhelm her, so do thoughts of Atlas Corrigan—her first love and a link to the past she left behind. He was her kindred spirit, her protector. When Atlas suddenly reappears, everything Lily has built with Ryle is threatened.
It Ends with Us: A Novel

Regretting You

Layla

November 9: A Novel

Verity

My Thoughts on This Colleen Hoover Book
From the moment I sat down on each plane, I started reading and didn't stop. So it's safe to say that I liked it a lot! When I initially read some of the reviews, I thought that this was not a book I was going to like. One of the reviewers said, "this book made me stop and think…a lot". Those reviews usually make me roll my eyes. Don't get me wrong, I like books that make me think. However, this book didn't really sound like it would be one of those "thinker" books. Boy was I wrong. Like many books I read, I sometimes start feeling like I know what was going to happen. Usually I like that. This time around, it annoyed me. I thought I knew what was going to happen and I wasn't impressed. Where was this deep thinking aspect of the book? And then it happened…NOTHING like I thought it was going to and then I saw why this made other reviewer think!
Possible Spoilers
Now please be aware that this next part may contain possible spoilers. I try not to spoil books because my point with this post and every other post on this site is to encourage readers to read the books I have read and enjoyed. You will notice that you never see negative book reviews on here. I do that on purpose. It takes a lot of time for authors to write there books and sometimes the book is for me and sometimes it's not. So I have chosen to share only the books I have read and liked! With this latest Colleen Hoover book, the two things I wish that was done differently was that Atlas was given a much bigger role throughout the book. I also wish that the scene with Atlas and Lily's father would have gone slightly different…as in, I wish there were repercussions for Lily's father.
What Should I Read Next?
In exactly 13 days, I will be having a pretty involved knee surgery that will have me laid up for quite awhile. So please leave me the names of some books that I should read. I am making a list. While I am laid up and watching Netflix and reading, my daughter will be making these delicious copycat Lofthouse cookies! You should try them!